Campus CMG Completes Monroe 2-Orleans BOCES Project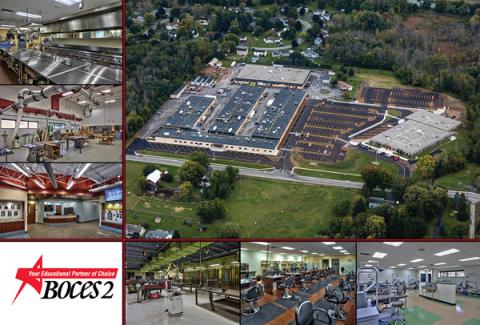 Monroe 2-Orleans BOCES marked the culmination of the 2014 Capital Improvements Project with a ribbon-cutting and grand opening reception this October. The celebration welcomed officials from BOCES 2's nine component districts to tour and experience the new Career and Technical Education (CTE) facilities, as well as a new conference center that will serve educators and students throughout the region.
Approved in 2014 by voters in the nine communities served by BOCES 2, the $29.2 million project included significant additions and renovations throughout the campus.
The following CTE programs have received new classrooms, labs, and hands-on learning environments:
Communication and Visual Arts: Advertising Design/Multimedia
Construction: Carpentry, HVAC, Plumbing and Heating, Electricity
Human & Public Service: Culinary Arts, Certified Nurse Assisting, Cosmetology, Dental Assisting, Early Childhood Education, Laboratory Technology, Personal Fitness Training
Information Technology: Computer Technology
Manufacturing: Engineering and Metal Fabrication Academy
Transportation: Automotive Body/Collision and Repair Technology, Heavy Equipment Operations and Maintenance, Outdoor Powersports Technology
To accommodate the anticipated heavy use of the new classrooms and facilities, site work included an expanded parking lot on the main campus. A secure main lobby will welcome students and visitors to the WEMOCO Career and Technical Education Center as well as the BOCES 2 Education Service Center. Improvements and replacements of mechanical, electrical, plumbing, and HVAC infrastructure were also made throughout the campus.
Monroe 2-Orleans BOCES serves students from the Brockport, Churchville-Chili, Gates Chili, Greece, Hilton, Holley, Kendall, Spencerport, and Wheatland-Chili school districts.