Wellsville CSD Unveils New Bus Maintenance Facility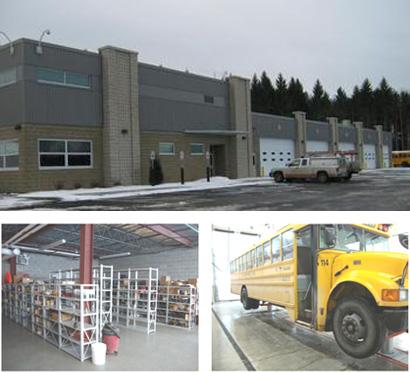 Wellsville CSD recently unveiled its brand new Bus Maintenance Facility. The District's existing bus garage was razed in January 2010 to make way for the new and improved facility.
The newly constructed 26,622 sf facility features two maintenance bays with hydraulic bus lifts, storage for 18 buses, a bus wash with reclamation, fluid storage, driver's training room, and offices. The building was turned over for District use on December 22, 2010.
"I came on board at WCS once the new bus garage project had started, so coming in mid-stream on a project of this magnitude to me would be overwhelming," commented Jay Ballard, Transportation Supervisor with the District. But that was not the case, he went on to say, "because of the professionalism that Campus Construction provided to our department. Their will-do attitude is top notch. If we needed assistance in any way, shape or form, Campus Construction was on it immediately."
The new Bus Maintenance Facility is part of the District's $25.9 million additions and renovations project that broke ground in 2009.
---
RELATED INFORMATION:
PROJECT DETAILS: Wellsville CSD
SERVICES: Construction Management