New Cafetorium Construction Commences at Webster's Spry Middle School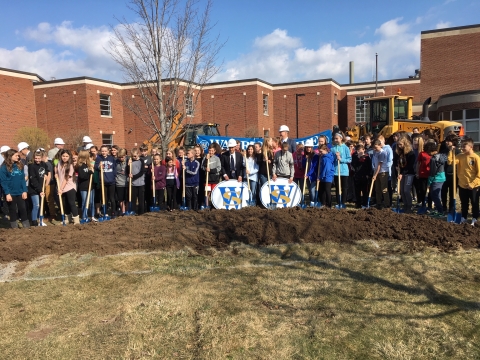 On April 9, Campus Construction Management Group broke ground for Phase II of Webster Central School District's $43.5 million 2016 capital project—the Spry Middle School new cafetorium. Campus is collaborating with the architect firm LaBella Associates on this requisite project.
In addition to the Campus and LaBella project team members, Spry Middle School students turned up to kick off construction along with District Superintendent, Carmen Gumina, Board of Education members, and representatives from the Town of Webster.
The new cafetorium will replace the original built in 1924. With the new cafetorium, Spry students will be able to gather in their own school for special events in lieu of using event space at Webster Schroeder High School.
When complete, the former auditorium space at Spry will be repurposed into a learning space while the former cafeteria will be turned into a modernized library.
Additional coverage:
Article: Spry Middle School breaks ground on new 'cafetorium'
Video: Webster CSD breaks ground on 'cafetorium'
For more information about Campus CMG's experience at Webster Schools:
Campus Experience with Webster CSD