New Airport Banners Highlight Monroe County Public Schools Success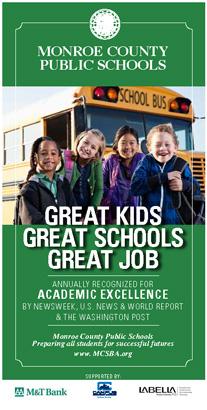 Executive Maggie Brooks today joined the Monroe County Council of School Superintendents (MCCOSS), local school board members and community partners to unveil displays which highlight the successes of public schools in Monroe County.
"Monroe County is proud to join with our partners in the school districts to bring attention to one of our community's greatest assets – our public schools," said Brooks. "These new displays will ensure that 1.2 million annual air travelers at our airport learn that our public education is a major contributor to our community's great quality of life."
These new displays will be located in the secure passenger waiting areas beyond the security checkpoint. Displays include eye-catching visuals combined with interesting statistics regarding graduation rates, Advanced Placement scores, and other tidbits of information.
"These banners are tangible signs of the cooperative work done by the Monroe County Superintendents' Public Education Advocacy Committee," said JoAnne Antonacci, Monroe 2 Orleans BOCES District Superintendent. "This group of district superintendents, school superintendents, school board members and business and community leaders has dedicated time and effort to promoting the positive impact of our strong local public school system."
Funding for the banners was provided by the generous support of M&T Bank, Campus Construction, and LaBella Associates.