Honeoye Falls-Lima CSD and Campus CMG Celebrate Project Groundbreaking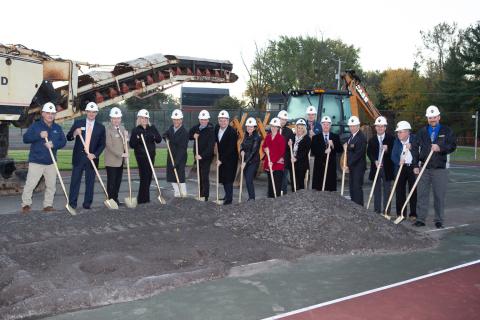 Honeoye Falls-Lima Central School District celebrated the groundbreaking of the Phase II Facilities Improvement Project this October. The event kicks off the district's $29.9 million construction project, which is anticipated to reach substantial completion in 2020.
Phase II of HF-L's long range master facilities plan will satisfy the following district priorities:
Protect the HF-L community's continued investment in school facilities and grounds
Enhance the safety and security of these facilities
Improve energy efficiency and reduce ongoing maintenance costs
Facilitate classroom and activity spaces that reflect changes in education over the next 10 years
Major scope items in the Phase II Facilities Improvement Project include:
Outdoor Athletics: A new multi-purpose turf field near HF-L Middle School; seven new tennis courts; combined baseball; combined baseball, softball, and full-sized rectangular field
21st Century Learning Environments: Renovations to STEAM spaces at Primary and Elementary schools, science lab renovations at HF-L Middle School, art classroom renovations in all buildings, and flexible learning and discovery spaces
Transportation and Facilities: Replacement of 1940s-era bus garage
Safety and Security: High School single point of entry, fire alarm and emergency lighting replacement
ADA Upgrades: Elevator access at Lima Primary; accessibility improvements to High School entrance
Exterior Renovations: Partial roof replacements, brick reconstruction, historic restoration at High School
Site Work: Playground replacement, new parking/drop-off configurations, and bus loop
Additional notable scope items include main office and nurse's suite renovations, classroom modernization, auditorium acoustical improvement, kitchen and cafeteria upgrades, and pool grout work.
Campus CMG President Tom Sexton, Senior Project Manager Robert Roberts, Assistant Project Manager David Levchuk, and Senior Field Manager David Spitale joined district representatives and project team members for the groundbreaking ceremony.