Ellicottville Cuts Ribbon on Multi-Purpose Gymnasium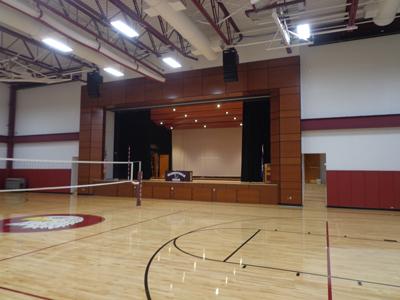 Ellicottville Central School District dedicated its $10,770,000 capital improvement project and cut the ribbon on a new, multi-purpose gymnasium. The new gymnasium also has a stage that will enable it to function as a large group instruction room and auditorium.
The project was developed as part of the District's Strategic Planning process that was adopted by the Board of Education in 2009. With a 75% voter approval rate, the project was approved in March 2013 with onsite work getting under way in the fall of 2014. In January 2014, voters approved an additional $925,000 to cover replacement of over 50,000 square feet of roof plus some additional work on the stage and a new south vestibule.
The project also features locker rooms, band and chorus rooms, and a remodeled weight/ fitness room. Drainage around the elementary wing, air exchange and circulation in the lower level of the elementary building, and a new south entrance have also been addressed. Ten classrooms in the original 1960 section of the school received new ceilings, lighting and painting. All of the hallways received new wall tile, lighting and ceiling finishes.
Additional Resources:
Ellicottville CSD Newsletter (featured article)
Ellicottville Times (featured article)
Salamanca Press (featured article)