Bradford CSD Café Addition Complete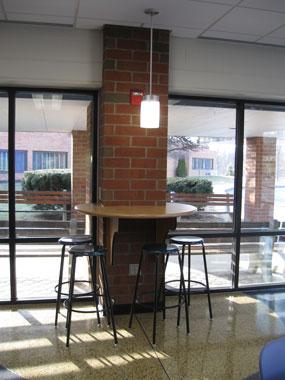 Bradford Central School District recently hosted the opening of their 1,221 square foot Café addition.
Features of the new space include:
White terrazzo floor with blue and yellow terrazzo patterned inlays
Black laminate wood buffet with clear oak edging
LED monitors and interactive boards to serve as information centers and group instruction centers
The space's multifunctional design trades in the traditional K-12 cafeteria look for a more modern setting that is reminiscent of a college-style café.
To view additional pictures of Bradford's new cafe, visit our Facebook page here.
---
RELATED INFORMATION:
PHOTOS: Bradford CSD Cafe Addition
NEWS: Bradford CSD Selects Campus for CM Services